Welcome to G-FORCE Aerobatics: Air Displays by Chris Burkett flying the Extra 300S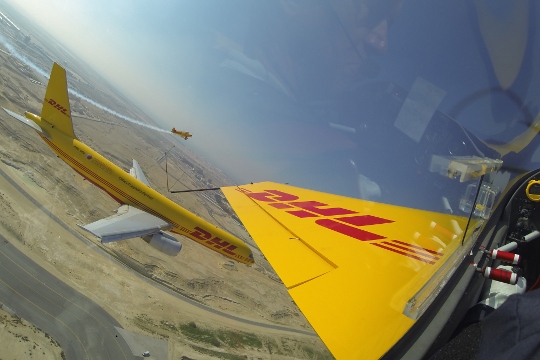 Voted a Top Ten Airshow Moment of 2013
Close formation aerobatics with two or four Extras, plus highly dynamic precision solo aerobatics, plus a unique double act with a 40% scale radio-controlled model Extra
"Stunningly flown and highly original – exactly what our Top 10 listing is all about" UK Airshow Review
This winter we performed at the Bahrain International Air Show, as part of the DHL Aviation Display Team, featuring close formation aerobatics plus a unique flypast off the wing of a DHL 757 freighter.

Like us on Facebook to hear the latest news, and to guarantee seeing some of the best in aviation photography.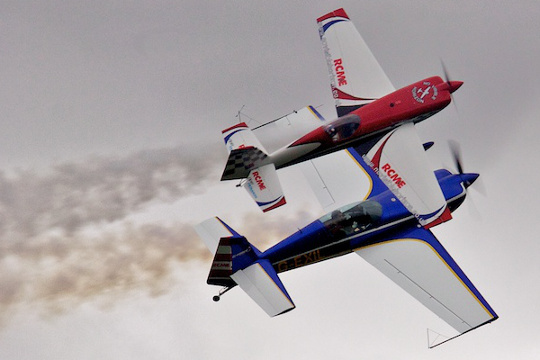 "A cracking display of precision aerobatics, truly gravity defying. The whoosh of the air travelling the wrong way through the prop as he came down backwards from a vertical hover was particularly striking." Nick Blacow
"Chris' display in the Extra was exciting to watch and competently and safely flown. We look forward to him displaying for us again in future" Air Chief Marshall Sir John Allison, the Shuttleworth Collection
"Fantastic display Chris, thanks! You got lots of compliments from the audience, me included" Luke Hall, Head of General Aviation, Cambridge Airport
"What do you get when you put Chris' full size Extra together with Mike's large scale model Extra? Answer: the most amazing display team I have ever seen" Colin Peryer, UK Airshow Forums (image credit: Colin Peryer)
We're based in the United Kingdom near Cambridge and travel to events throughout the UK and near continent, and to major events worldwide – especially during the European winter. Please browse our website for more information about the Aircraft, Pilot, and Display. It would be a privilege to demonstrate the aeroplane and our aerobatic skills at your event.
Check out our exciting Videos! Please see the Links section for more photo credits!